Carmanah Signs Inc.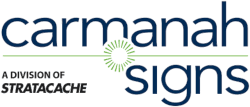 5-6025 12th Street SE
Calgary, AB T2H 2K1
Phone: 403-252-6047
Fax: 403-252-5580
carmanahsigns.com
Year of inception: 1993

Carmanah Signs is the Lottery & Gaming Division of STRATACACHE, the world's leading provider of intelligent digital signage and in-store marketing technology. Providing best in class retail signage to 55+ lotteries on four continents, Carmanah has over 220,000 networked sign installations at retailers worldwide.
The company offers products designed to engage players at retail, including digital sign content management software, media player and display hardware, all-in-one interactive tablets, and jackpot and gaming signs.
Carmanah also offers a complete suite of services to help lotteries build and operate effective digital communication platforms, including network hosting, network monitoring, content creation and scheduling, and specialized field services.
The Carmanah team is made up of retail technology experts and customer experience strategists with deep roots in lottery. Carmanah is your partner in transforming lottery at retail to deliver exceptional player experiences – growing sales and responsibly raising funds for beneficiaries.