CM Global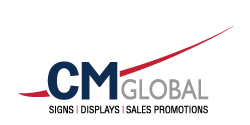 1201 North Fourth Street
Watertown, WI 53098
Phone: 920-567-0333
Fax: 920-261-4500
https://www.cmglobal.com
Year of inception: 2001
Primary products and services:
Signs
- Illuminated, non-illuminated, jackpot signs
Displays
- Literature holders, kiosks, merchandising tools, scratch dispenser headers, traditional and illuminated
Scratch ticket dispensers
- Any size, illuminated or non-illuminated
Graphics and design work
- Logos, literature, store design
Sales promotions and premiums
- Scratchers, pens/pencils, custom premiums
CMGlobal is a creative, cost-effective supplier for all of your lottery marketing needs. We work with some of the largest retailers, consumer goods companies and lotteries in the U.S., supplying on-time solutions to marketing problems. We are headquartered in the heartland (Wisconsin) with regional offices across the country. We offer in-house design and engineering, product management, warehousing and fulfillment, and spectacular sales and customer service. And we have many years of lottery-specific experience; we can add value to any program. We look forward to working with you!