Take-A-Ticket, Inc.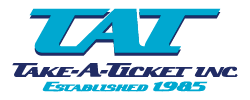 130 Montgomery Street
Albany, OR 97321
Phone: 800-253-4295
Fax: 541-967-8415
www.tatinc.com
Year of inception: 1985
Primary products:
On-Counter dispensers
- Available in two games up to 60 games
- Rotating dispensers, displays and brochure holders
- Lighted Menu boards
- Fabricated and injection molded dispensers
In-counter and under counter dispensers
- Available in 8-48 games
- Allows tickets to be displayed inside or under the sales counter, saving valuable counter space!
Brochure holders, specialty and custom items
Take-A-Ticket, Inc. was the first lottery ticket dispenser company. TAT was founded by Cal Tigner in October of 1985; when wanting to purchase a ticket he said, "If you can't see it, how can you buy it?" TAT is a family-based business with over 100 years of combined experience and customer service. Take-A-Ticket has designed numerous dispensers to meet the needs of lotteries and store chains throughout the years. Movement and lights make the most eye catching display piece in a convenience store. Small on-counter footprint makes it ideal for lotteries expanding into non-traditional sales locations.
Lottery customers: Take-A-Ticket provides lottery products to nearly all U.S. lotteries, plus international clients.