Take-A-Ticket, Inc.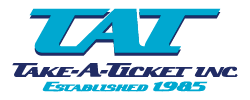 130 Montgomery Street
Albany, OR 97321
Phone: 800-253-4295
Fax: 541-967-8415
www.tatinc.com
Year of inception: 1985
Primary products:
On-Counter dispensers
- Available in two games up to 60 games
- Rotating dispensers, displays and brochure holders
- Lighted Menu boards
- Fabricated and injection molded dispensers
In-counter and under counter dispensers
- Available in 8-48 games
- Allows tickets to be displayed inside or under the sales counter, saving valuable counter space!
Brochure holders, specialty and custom items
Take-A-Ticket has been in business for nearly 40 years and pioneered the first ticket dispensing devices for the lottery industry. The company was founded by Calvin Tigner Sr. in 1985 who believed making lottery scratch tickets more visible would help sales.

Today, Take-A-Ticket provides dispensing devices and merchandising aids for more than 35 US lotteries and many of the major chain stores throughout the country. Because one size doesn't fit all, Take-A-Ticket specializes in custom fabrication and 4-color process printing on all types of materials, including plastics.
Lottery customers: Take-A-Ticket provides lottery products to nearly all U.S. lotteries, plus international clients.